100 Bags! 50 Quart and 50 Gallon FoodVacBags for Foodsaver other Vacuum...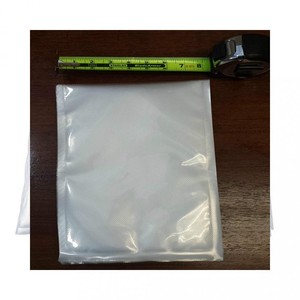 ---
100 Bags! 50 Quart and 50 Gallon FoodVacBags for Foodsaver and other Vacuum Sealer Machines
Product Details
Product Dimensions: 12 x 2 x 7 inches
Item Weight: 3.25 pounds
Shipping Weight: 3.3 pounds
Manufacturer: FoodVacBags
Item model number: FVB-B2
4 mil bag, designed for use with all clamp-style vacuum packaging machines
100 bags! Economically priced - Save over other name brand bags!
Bags can be frozen, refrigerated, microwaved, or boiled
FDA Approved and BPA Free
Each 50 in own resealable pouch for easy storage
FDA Approved, BPA Free, Boilable, Microwave & Dishwasher Safe. These heavy-duty vacuum sealer bags will protect your food from freezer burn and prolong its lifespan while storing. Food will taste as good and as fresh as the day you packed it. Buying in bulk saves you money. You've already decided to save money by preserving your food---now save money on the tools you need to do it! These bags are over 40% cheaper than name brand bags! Our vacuum sealer bags can be used on all Clamp Style Sealers such as the following: Foodsaver Black & Decker Rival Seal A Meal Deni Kenmore George Forman Cabelas and many more...